Buyee is a proxy shopping website that buys items from Japanese online shops and ships them internationally on behalf of their customers. Buyee is officially available in several languages.
Many online sellers in Japan do not ship their products overseas and many of them are not even accessible from countries outside Japan. Buyee bridges the gap between Japanese sellers and international buyers.
It is useful to buy Japan-only items. If you like to get collectables or vintage items that are only available in Japan.
Buyee is operated by tenso, the company that owns one of the most well-known parcel forwarding service providers in Japan, tenso.com.
I am a Japanese citizen living in Australia. While I have no issues with shopping online at Japanese e-commerce sites in Japanese, Buyee is still useful for me especially to buy stuff from Japanese online flea markets such as Mercari and Rakuma.
This article explains Buyee from my viewpoint as a Japanese native, and gives you tips and tricks that are not stated clearly on their website in order to avoid paying excessive fees to get your items bought and shipped out from Japan.
Here is a link to Buyee.
What is good about Buyee
I have been using Buyee to get products bought and shipped from Japan for a while now. Here are the pros and cons you need to know before using Buyee.
Advantages
You can buy from Japanese sellers who do not ship overseas through Buyee and they will ship internationally for you.
Buyee combines multiple packages from different sellers together to one package to reduce the overall shipping cost.
You gain access to huge Japanese online markets usually available only for residents in Japan.
Their services are available in several languages.
They offer lots of shipping options.
Disadvantages
Shipping and handling fees can be expensive, especially if you purchase multiple items and get them combined together to one big package to ship.
It could take time to get your item shipped out to you as your package has to be locally delivered to Buyee first before they can arrange an international shipment.
Buyee is not just an ordinary Japanese buying and bidding service. It is probably the most famous and largest proxy buying and shipping service in Japan.
You do not need to know how to speak Japanese language. Buyee has multi languages speaking staffs who are able to assist customers from different backgrounds.
As a user of Buyee, you will need to pay for a minimum service fee of 500 JPY, plus optional fee for package inspection service and insurance (300+200 JPY) if you like to add. On the top of that, local shipping cost from seller to the Buyee warehouse if the seller does not offer free shipping and international shipping cost, will be charged to you. You cannot estimate these costs accurately before you actually purchase through Buyee.
They offer package consolidation service. By combining 2 or more packages, overall shipping cost is supposed to decrease. However, it could increase the overall cost if it isn't applied correctly because you have to pay 500 JPY to combine 2 items together and 1000 JPY to combine 3 or more. If the combined package gets too large, you may loose cheaper options to ship your package because not all the freight forwarders can handle larger packages. Thus, sometimes, shipping charge for separated shipping can be cheaper than consolidated shipping.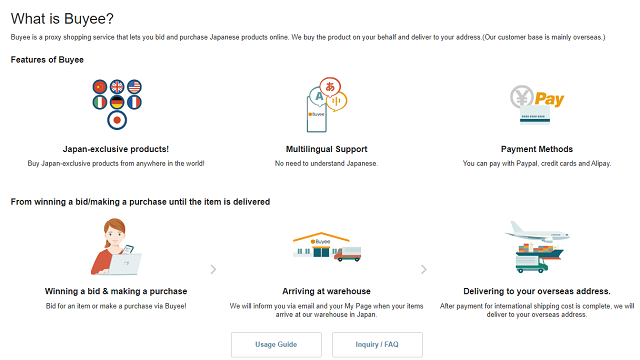 I am a regular user of Buyee not because I do not read and write Japanese but because I want to buy second-hand products from the online flea markets (namely Mercari and Rakuma) that are only open to local residents in Japan.
It is difficult for non-residents in Japan to buy from these markets even they read and write Japanese because you need to have your Japanese local mobile phone number verified via SMS to get registered before using the platforms.
Getting a mobile phone number in Japan is not easy unless you are staying in Japan. There is no way to get a Japanese phone number to receive text messages (SMS) while you are not in Japan.
And there are no services available to have anyone on your behalf to receive even a single text massage. It is illegal in Japan to run a business to do a SMS verification on someone's behalf. This is to avoid stolen goods being traded by people without their true identities verified.
People have been arrested by giving their mobile phone numbers for fee to strangers to get them verified to register to online market places in Japan.
Not all e-commerce sites in Japan ask you SMS verification, but Mercari and Rakuma do.
Mercuri and Rakuma are the places that I quite often find the best deals in Japan. Because I cannot resister myself to shop at these market places, I use Buyee. Any products new and used are available there dirt-cheap. Another good thing about these market places is that they are not auction sites. When you find a product you want, you just buy at the price offered. First come first served basis. No hustle of bidding and waiting.
The reason why I find the best prices at Mercari and Rakuma a lot is, I think, because most of the sellers in these markets are non-professional individuals who just want to sell their unwanted goods whereas many of the sellers in Yahoo Auctions and other similar sites are shops and experienced sellers who know how to sell to get maximum profits.
I think Mercari and Rakuma are especially good to use if you want to get things like car/bike parts, toys and collectables, anime goods, branded clothes and so on. Not so good for foods and consumables.
There are many complaints about their expensive fees on well-known review sites such as Trustpilots and ProductReview.
While I agree their fees can be expensive when you buy multiple bulky items and get them combined into one large package, I believe that paying excessive fees can be avoided if you know the tips and tricks explained below.
Even with Buyee's expensive shipping and handling fees considered, it is worth using Buyee because of the access to the market places like Mercari and Rakuma.
If you like to get brand-new items from multiple vendores in Japan, I recommend you to use Rakuten Global Express
to get your items combined together and shipped instead as their fees are cheaper.
A guide to use Buyee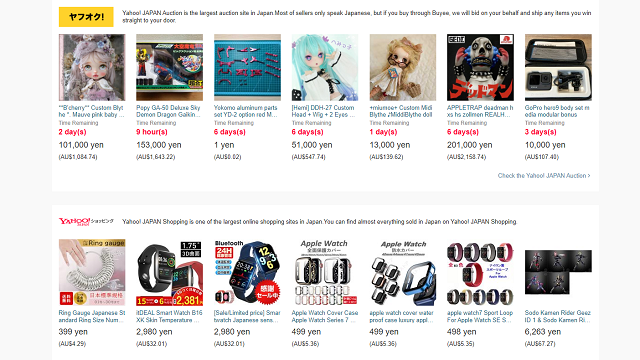 Before you use
You should register yourself first and check what coupons you can use as you will receive special coupons for new users such as vouchers to use on Mercari or Rakuma and special discounts for fees.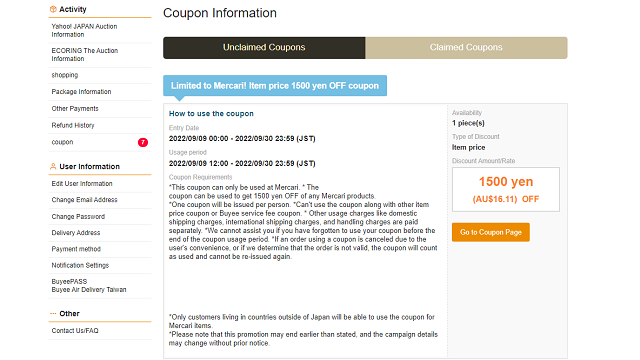 Registration process is quite simple and easy in your language that I do not need to explain here.
If you read Japanese, it is better select Japanese as the site language. If not, choose your language and in addition, get your google translation on as to translate the descriptions of products listed, from Japanese to your chosen language.
Buyee has a first-time user guide for you to read before using their service.
Fee structure
Purchasing fees
Buyee charges a service fee of 300 JPY and payment fee of 200 JPY per purchase request. You will pay 500 JPY in total at minimum per purchase to Buyee if you choose the cheapest "Lite Plan", on the top of the item price and domestic shipping fee.
The 'Lite Plan' does not guarantee if your item is delivered intact nor they inspect the item upon delivery. If you choose to pay extra 500 JPY (1000 JPY in total) to get a 'Standard Plan' (they call it 'standard' but actually is 'comprehensive'), they will insure the delivery of the item you purchase and will inspect the item upon arrival at their warehouse. For details see Buyee's fee information page.
Paying 1000 JPY extra on the top to the item price is bit too much if you buy an inexpensive second-hand item. I personally never had these options and have always been choosing a "Lite Plan" with my previous purchases with Buyee.
When you buy something expensive and fragile that would cost you a lot, it may be worth paying extra to get it insured and inspected.
Consolidation fees
Be careful when you ask Buyee to combine multiple packages. By the way, they do not say "combine", they say "consolidate". Once you order a consolidation service you cannot cancel. After your packages have been consolidated, you cannot get them back to the state before.
It is often cheaper to ship separately than consolidating into one if you ship by sea. Shipping by sea takes more time (several times longer) than shipping by air but it is much cheaper. My personal experience of this is described in the 'Tips and tricks' section below.
With Buyee, all ocean freights will be handled by Japan Post and they have stricter size and weight limits which are much smaller than those set by international courier services such as DHL, FedEx and UPS.
If you buy from multiple sellers to get them consolidated later, plan ahead to determine which items to put together and what shipping method you are going to use.
Package consolidation is 500 JPY to consolidate 2 packages, 1000 JPY to consolidate 3 packages of more and 1500 JPY to consolidate your already-consolidated packages again. See the FAQ page for details.
Shipping fees
There are lots of shipping options available at Buyee.
Shipping fee is the cost to ship your package to your international address, plus you may have to pay a domestic shipping fee if your Japanese seller does not offer free shipping.
I recommend using air freight if you like to get your stuff delivered quickly. If you are not in hurry, use much cheaper ocean freight.
Buyee is especially good for single purchases of small goods. If you are buying multiple large items, the packaging would get bulky and the shipping and fees would be quite expensive. The shipping fee can be estimated beforehand if you know the dimensions and weight of your item. You can find the details here.
The Simple Estimation Tool provided on their site would only give you how much international shipping fee would be and would not help much if you plan to buy from multiple sellers and get your packages consolidated as it wont take these fees into account.

Goods and services tax (GST)
If you live in Australia or New Zealand, you will be charged extra 10% of the total cost that you pay to Buyee. The total cost means everything you need to pay to Buyee including the item price, shipping fee and Buyee's service fees. Technically GST has to be paid to import an item purchased overseas to Australia and New Zealand.
If you just ship something privately to Australia and New Zealand you usually do not asked to pay GST. However, if you use a service like Buyee, you will need to pay GST.
I feel it is ridiculous that 10% surcharge is applied to the shipping cost. But they cannot help. Higher the shipping cost, the higher the GST amount will be.
Since I live in Australia, this is a big pain in the ass. However, even paying 10% extra for GST, it is still worth using Buyee as I can get access to dead-cheap things listed on Mercari and Rakuma.
Tips and tricks
How to find the best deal
All the titles and descriptions of products listed in the proxied e-commerce sites you can see through Buyee are originally in Japanese. Therefore, it is the best to search for products in Japanese to have the best search results.
Searching for products in languages other than Japanese should still works but won't pick up all the listed items as they are not translated precisely to other languages.
If you read and write Japanese, set the Buyee site displayed in Japanese. I you don't, that's ok, but when you search for a product you want, google how the product name is spelled in Japanese, and copy and paste the Japanese word in the search box to get the best search results.
For example, if you want to find Pokemon goods, google with the key words like "pokemon spelled japanese". You should be able to find the Japanese word for that (ポケモン).
When you buy
Buyee has a user-friendly website that makes it easy to shop from the proxied e-commerce sites. However, you need to be careful with reading the item descriptions. Some sellers won't ship immediately and they only ship once or twice a week. Some sellers are inactive and do not respond at all.
Buyee's automated bid process makes shopping at Yahoo Auction easy. Some sellers at Yahoo auction prohibit certain bidders to participate the auction.
If you plan to use Yahoo Auction, before bidding on an item, make sure that the shipping cost that the seller offers is reasonable. There are a few malicious sellers who try scam their bidders by hiding a high delivery fee in the original pages. Especially, be careful with auctions stating from 1 JPY. There are many 1 JPY items listed with very dear shipping charge that could be higher than the item's normal retail price.
With some listings on Yahoo Auction, it is a bit hard to find how much shipping cost you would be charged if you won. If you speak Japanese, you can go to the original listing on Yahoo Auction and contact the seller directly. If you don't, avoid bidding on items with unclear shipping cost.
Understanding purchasing fees
I saw reviews by the past users of Buyee on Trustpilot, ProductReview and reddit, and saw many bad reviews about their unclearly stated fees and slow responses.
I agree their fee structures are a bit complicated and the way they named each fee type is not very user-friendly.
For instance, they have a few different levels of fees for proxy purchasing. The most expensive and comprehensive level is called "Standard Plan" and it includes insurance for the domestic deliveries to the Buyee warehouse and inspection of the item at delivery. It cost 1000 JPY on the top of the price of the item.
The least expensive plan is called "Lite Plan" and it is 500 JPY that is the minimum amount you have to pay to get Buyee to buy an item on your behalf. The minimum fee of 500 JPY that is charged per purchase request consists of service fee of 300 JPY and payment fee of 200 JPY.
The fact that the most expensive plan is called "standard" made me confused when I used the service first time. I think it makes first-time users think they should take a "Standard Plan" because it is standard. That may be their intention. I always take a "Lite Plan" and have never had problems. I personally do not see the need of getting purchased item insured and inspected, as the packing and shipping standards in Japan are quite high.
Things not officially stated but you can ask
There are things not officially stated but you can ask. So do not afraid to contact their customer service and ask if you have any questions. Remember they are not native English speakers but they are Japanese customer service representatives. Customer services in Japan are generally considered the best in the world.
When you make a request in English, make your sentences as grammatically correct and simple as possible, and try to explain what you want in a few different ways to make sure they understand.
I made a mistake with consolidating items before. I purchased several items via Buyee to get them ocean freighted later because none of them were urgently needed and shipping by ocean was way much cheaper.
I made an order to consolidate several packages and paid for that. The volume of the consolidated packages exceeded the maximum limit for ocean fright. I miscalculated the maximum volume allowed for ocean fright and it was much smaller than I originally thought.
Because the consolidated package was oversized for ocean freight, my option for ocean freight was removed from the system. The shipping cost by air fright became 3 times larger than the total amount paid for the items.
When the packages are consolidated, they are just put together into a bigger box. They officially offer no option of repacking after consolidation.
I emailed the customer service and told them that I was supposed to get it shipped by ocean and asked them either if they can separate the packages into two so that I could have two ocean freights or if they can dispose the unnecessary packing materials to make the volume smaller so that all the packages could be fit in a box that can be shipped by ocean.
Their answer was "yes" for both. They managed to downsize the package by removing unnecessary packing materials so that I was able to have one package shipped by ocean. The shipping cost decreased significantly. I was quite happy with their flexibility although it took a while to get it done.
Downsizing a package is not stated as one of the options you can have. I think it is because there would be an increasing chance of getting your items damaged during delivery if packing materials are removed. But downsizing is what you can ask but you should not complain later even if you end up receiving your item damaged during delivery.
Other things that you can ask is forwarding your package domestically to an address in Japan and discarding your package.
To get your package forwarded to another Japanese address, you will need to pay a domestic shipping cost and small handling fee. This is good if you find someone who can bring your stuff back to your country.
Discarding your package might be an option, when you realized it is not worth paying expensive shipping fees for the cheap item you purchased.
They keep your packages for up to 30 days for free. After 30 days, you will need to pay storage extension fee. For details see here.
In other words, you will have 30 days after your first package arrival at the Buyee warehouse. You can have enough time to talk to Buyee's customer service in order to minimize your shipping cost.
I recommend you to contact them and ask before ordering a package consolidation if you are not sure what the consolidated packaging size would become as you cannot cancel your consolidation order once it has been placed.
They can be quite flexible with your needs. You may need to be a bit patient with getting them to understand what you want exactly.
Conclusion
Buyee is not just a baggage forwarding service provider. They provide a proxy buying service. They purchase items on your behalf.
Buyee enables you choose, buy, and bid from many Japan-based shopping and auction websites including Yahoo Japan Auction, Mercari, Rakuten, Rakuma, ZOZOTOWN and more.
Buyee is legit and safe to use. Buyee would be great if you buy rare items and collectables in lots. Good for otaku goods like amime figures, games, die-cast vehicles, fashion clothing brands, JDM car parts, tech gadgets and so on.
I am a happy user of Buyee but saw many bad reviews on them, mainly about their expensive fees and how issues with original sellers were handled by their customer service.
As I do not see them as bad. I reached a conclusion that those unhappy previous users should not have had bad experiences if they knew what I have written in this article beforehand. I hope this can be an useful guide for new Buyee users so they don't waste their precious money.
If you like to get brand-new items from multiple sellers in Japan and get them combined to ship internationally, consider using Rakuten Global Express
. Their fees are cheaper.