DOKODEMO is an online shopping mall that ships Japanese products worldwide. DOKODEMO has an extensive range of products at duty-free prices.
What is DOKODEMO
DOKODEMO is managed by VEGA Corporation, a publicly listed company in Japan. DOKODEMO has a really wide range of Japanese pharmaceuticals and beauty products with low prices especially during sale events.
DOKODEMO is available in 4 languages (English, Japanese, Simplified Chinese, & Traditional Chinese). In order to provide a more convenient, secure and safe shopping experience, DOKODEMO supports 4 languages and provides excellent customer service.
They run sales and 10x point campaigns regularly. You can earn points every time you shop and you can use your accumulated points for your next purchase.
DOKODEMO's Product Range
Internationally popular Japanese brands and trendy Japanese products are available at DOKODEMO. Their website is very easy to navigate. You shouldn't have a problem with finding a product you want.
The following products are available at their shopping mall.
Categories
Japanese Medicine
Health
Skincare
Bath & Body
Food/Drink/Alcohol
Makeup
Electronics
Hair Supplies
Men's Products
Daily Necessities
Kids & Family
Fashion Clothes
Sports & Outdoors
Entertainment Products/Pop Culture
High quality Japanese products such as SHISEIDO and POLA cosmetics, as well as medicines and supplements like Pabron or EVEs, are shipped out directly from Japanese stores to the buyers outside Japan.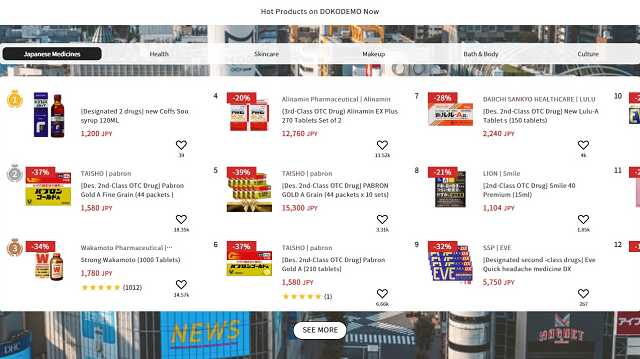 Their best-selling products are Japanese over-the-counter drugs such as cold granules and constipation medicines, eye drops, acupoint patches, gastrointestinal tablets, fatigue relief tablets and mosquito bite itching and anti-inflammatory creams.
Shipping
Products are shipped out directly from Japanese stores at DOKODEMO Mall. There are no additional charges involved apart from the product price and international shipping fee.
Please note that if you purchase from more than one vender, your items are dispatched from multiple vendors. DOKODEMO does not combine multiple packages into one larger package.
Shipping costs are counted separately for each purchase. It makes it easier if you do not want to pay excessive custom charges by keeping your order value under a certain threshold according to your country's custom regulations.
Otherwise, You may like to buy multiple products in the same store and save on shipping.
DOCODEMO's international shipping rate is weight based. As long as the shipping fee stays the same, you can add more to your cart and maximize your shipping cost.
Secure Payment System
DOKODEMO accepts the following payment methods:
Credit Card Payment (VISA・MASTER)
PayPal Payment
Pay After AFTEE
Conclusion
DOKODEMO is an online shopping mall that ships Japanese products worldwide. DOKODEMO has an extensive range of products at duty-free prices.
Pros and Cons
Pros
A huge range of products
Fast shipping
Well packaged goods
Low price
Cons
No package consolidation
No custom charges covered
If you purchase multiple items from more than one vendor at DOKODEMO, be mindful that your items will be shipped out separately from different vendors, so you may have to pay custom charges more than once.
I also would like to mention about their newsletter emails. Once you use their service, they start sending promotional emails frequently. To unsubscribe from their newsletter, you need to log in and go to 'Setting'. At the bottom of the 'Setting' section, there should be an option to unsubscribe from their newsletter.
DOKODEMO is particularly useful if you want to have the best deals on Japanese pharmaceuticals and beauty products.
If you want purchase multiple items from different vendors and get them combined to one package, I recommend you to try Rakuten Global Express
or Buyee instead.