Experience Oz is the most convenient and cheapest way to book sightseeing attractions and local tours in Australia and New Zealand. Look no further. Experience Oz will be your strongest supporter if you want the best deals in the market.
What is Experience Oz?
Experience Oz is an online booking site where you can book famous attractions, local optional tours and hands-on activities in Australia and New Zealand. It is the largest booking site in Australia.
The merits of using Experience Oz is the cheap prices,and the wide variety of attractions and tours.
You can also book in Chinese (simplifed and traditional) and Japanese. It has the Chinese & Japanese support desks.Select your preferred language from the drop-down menu at the top.
There are over 3000 attractions and tours in more than 50 regions across Australia and New Zealand.
Attractions and tours available at Experience Oz are the cheapest in the industry. There are many local tourist attractions that can be reserved and purchased at discounted prices. The price of Experiece Oz is no higher than buying at the local attractions' ticket counters.
There are many packaged products that offer significant discounts when you purchase multiple attractions and tours as a set, which can save you a lot, compared to paying individually at local attractions.
All prices displayed on the site are everything you pay, and there are no hidden costs such as additional charges or fees incurred locally.
The service is reliable and the booking process is easy. Tickets will be issued immediately after booking. If you have any questions, contact them and they will respond you very quickly.
Due to its ease of use and price advantage, many residents in Australia use Experience Oz multiple times, and the service also serves a large number of repeaters. It is also highly rated by Australian review sites.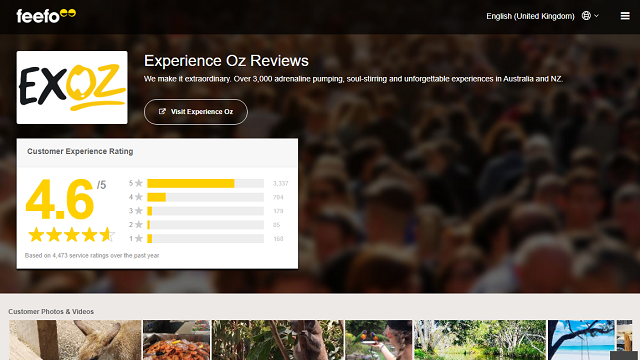 From reservation to payment are completed online and e-tickets will be issued in advance, so you don't have to be in a long queue to enter crowded attraction. It is not recommended to purchase attraction tickets on the day at the attractions' ticket counter because you will not get any discounts.
Experience Oz has a tremendous number of attractions and tours. Since it covers almost all of the major tourist attractions, you can browse Experience Oz to check what kind of experiences can be tailored to your needs in your destination. Just surfing the site can raise your excitement level.
There are a variety of cheap packages with several attractions for one-off set price. You will definitely find your favourite tours and attractions.
Attractions, Tours and Activities
Experience Oz have a wide range of activities such as admission tickets to zoos, aquariums, museums and theme parks, popular tourist attractions such as cruises, sight-seeing bus tours and restaurant packages, as well as sport activities such as diving, surfing, rafting, sky diving, etc.
Please browse the site to explore places to go, activities, sightseeing tours and tourlist attractions and more.
Here are some of the tours and attractions in the major cities in Australia.
Day Trip, Rainy Day Activities, Theme Parks, Zoos/Wildlife Parks, Dinner Shows/Entertainments, Cruises, Restaurants, Trekking/Bush-walking, Winery Tours, Camel Ride, Horse Riding, Bungee Jumping, Hot Air Balloon, Helicopter, Sky Trip, Seaplane, Whale Watching, Dolphin Swim, Kayak Tour, Rafting, Jet Boat, Motorboat, Snorkeling and more..
Go to the Experience Oz website for details. Click "Choose Region" to browse activities.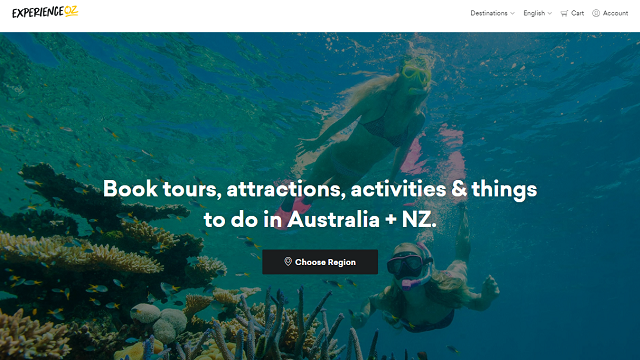 Australia
Queensland
Surfers Paradise
Cairns
Great Barrier Reef
Brisbane
Moreton Island
Palm Cove
Townsville
Fraser Island
Hervey Bay
Port Douglas
Bundaberg
Sunshine Coast
Whitsunday Island
Gold Coast
Tasmania
Port Arthur
Cradle Coast
Launceston
Hobart
New South Wales
Sydney
Byron Bay
Port Stephens
Jervis bay
Blue Mountains
Snowy Mountains
South Australia
Port Lincoln
Barossa Valley
Kangaroo Island
Adelaide
Northern Territory
Alice Springs
Ayers Rock
Uluru-Kata Tjuta National Park
Darwin
Victoria
Melbourne
Great Ocean Road
Ballarat
Mornington Peninsula
Phillip Island
Yarra Valley
Australian Capital Territory
Canberra
Western Australia
Ningaloo Reef
Bloom
Margaret River
Perth
Rottnest Island
Go to the Experience Oz website for details
New Zealand
North Island
Auckland
Bay of Islands
Wellington
Rotorua
Taupo
Hawkes Bay
South Island
Kaikoura
Christchurch
Cook Mountain
Stewart Island
Hanmer Springs
Queenstown
Milford Sound
Te Anau
West Coast
Go to the Experience Oz website for details
How to make a reservation at Experience Oz
First, click "Account" to create an account. You can make reservations and purchases without creating an account first.
Select your desired attraction and select the number of people.
For tours with scheduled dates or tours with limited capacity, check availability and select your preferred date.
Once selected, add to the cart.
Once you have added what you want to your cart, click "Payment".
Enter your personal information such as name, phone number and email address and click "Proceed to Payment".
Pay by credit card.
You will receive an e-ticket immediately after payment. You can also download the e-ticket on the spot.
Summary
This article introduces Experience Oz, the best booking site that covers sightseeing tours, tourist attractions and activities in Australia and New Zealand.
To sum up, the characteristics of Experience Oz are summarized below.
Australia's largest booking site
You can make a reservation at the lowest discounted price in the industry
Reservations are easy and e-tickets are issued immediately.
The site supports other languages (Chinese & Japanese)
Experience Oz has the largest selection of optional tours and attractions at the cheapest prices in Australia. If you compare it with other booking sites, you will discover this.
If you plan on sightseeing in Australia, take advantage of this service!
Book tours, attractions & things to do across Australia & NZ