The cheapest way to use a mobile phone and wireless internet in Australia is to buy a SIM card from an MVMO.
What is an MVNO?
MVNO stands for Mobile Virtual Network Operator. It does not mean that they exist in virtual reality. A mobile virtual network operator is an mobile phone/wireless internet data service provider that does not own their network infrastructure. They operate on someone else's network.
In Australia, there are only 3 operators who have their own networks. They are Telstra, Optus and Vodafone. The rest are MVNOs. There are around 50 MVNOs in Australia and they operate either on Telstra's, Optus', or Vodafone's network.
MVNOs are quite common in many of the developed countries around the world. Some of the MVNOs operate across two or more countries.
Why should you choose an MVNO plan?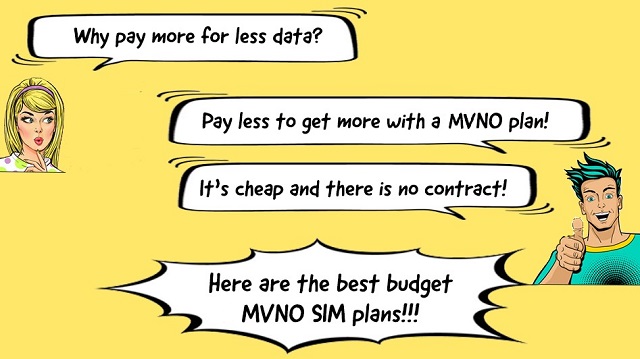 Cheap
If you just want to get your phone, tablet or WiFi modem connected to the Australian wireless network, just buying an SIM-only-plan should be the cheapest and easiest way to go. When you choose a SIM-only-plan, you bring your own phone, tablet or WiFi modem, and you buy a SIM with your plan of choice.
Flexible
A majority of the Australian MVNO plans require no contract. It means that you do not need to keep using the same service for more than a month. There are no 12 month or 24 month contract options. You can change your plan every month depending on your needs. You can cancel your plan anytime with no obligations.
When you bring your mobile phone or WiFi modem, it has to be unlocked. Get you device unlocked if it is locked to a particular service provider's network.
If your phone or WiFi modem has been a part of the plan that you got from your previous service provider, it is most likely that your device is locked to their network and cannot accept any SIM from the other providers. You need to get your device unlocked before using it on any other providers' networks.
How good are they? Is it safe?
All of the MVNOs in Australia operate either on Telstra's, Optus' or Vodafone"s network, the reception and data speed should not be an issue. All of them are on the 4G networks in Australia and the users of all the Australian MVNOs receive the same access to the networks as the users of Telstra, Optus and Vodafone do. It is not the case that the users of these network owners are given priority over the MVNOs.
Many of the Australian MVNOs do not have their physical shops that their customers visit and see them face to face. Their SIMs are available online. This does not mean their customer services are inferior. They have competitive full-time customer service over the phone, online chatting and email.
Some of the MVNO SIM plans are available at local supermarkets, convenience stores, service stations, news agents and tobacconists. However, SIM plans of the most competitive MVNOs in terms of prices are exclusively available online.
It is totally safe to buy a SIM plan from any of the MVNOs in Australia as they are legally registered as a licensed telecom companies under the Australian regulations.
The most well-known but not the cheapest MVNO in Australia is probably Virgin Mobile as they have physical shops around Australia. Also the large supermarket chains such as Woolworthes, Coles and ALDI has their MVNO plans. The online retail giant, Catch.com.au has their NVNO called Catch Connect. Catch Connect is one of the cheapest and most reputable MVNOs in Australia.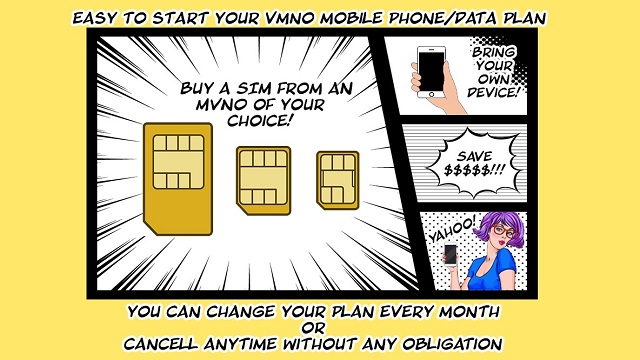 Why are they so cheap?
All of the MVNOs in Australia buy network services from one of the big 3 operators (Telstra, Optus and Vodafone) who own the network infrastructures at wholesale prices and resell it to the consumers.
The reason that many of the MVNO plane are much cheaper than these big 3 operators is that their overhead costs are much lower compared to these big operators. They do not have physical shops and have smaller advertising costs.
Lots of the consumers in Australia still do not know that there are heaps of MVNOs available in the market and they stick to the expensive services these big operators provide.
The MVNOs do not have physical shops and their services are exclusively available on the internet and over the phone. Because of their low overheads, they are able to offer very cheap and competitive SIM plans. Even with no physical shops, their customer services are as good as the big operators, and even better with the online chatting with minimal waiting time and quick response.
Here are the best MVNOs to compare:
Catch Connect – One of the cheapest in Australia!
Southern Phone – Best customer service in Australia!
Boost Mobile – Cheap long-term plans with free international calls!
Related article: Tips to buy a good mobile phone SIM plan in Australia