Located at the highest altitude in Australia, Charlotte Pass is a unique ski resort like no other. It is one of the popular ski resorts in Snowy Mountains, New South Wales,
This article gives a review on Charlotte Pass based on our experience.
Charlotte Pass Snow Resort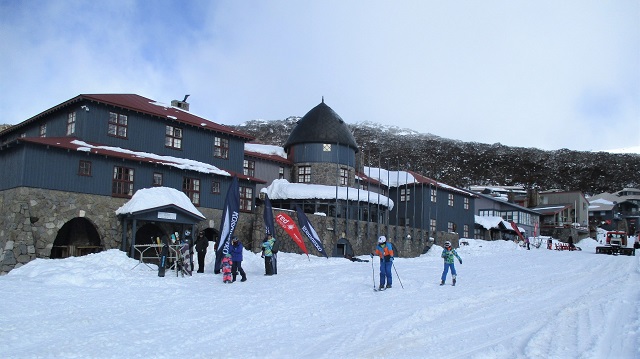 Charotte Pass is a small ski resort with four lifts, which is 8 km away from Perisher, Australia's largest ski resort.
The lowest temperature in Australia's history was recorded at Charotte Pass due to the high altitude. Mt Kosciuszko has the highest peak on the Australian continent (2228 meters above sea level) and it is close to Charotte Pass. The trail from Charotte Pass to Mt Kosciuszko opens for climbers in the summer.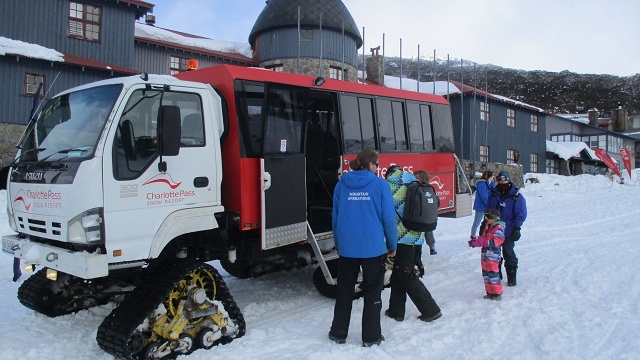 In winter, not only the mountain trail but also the road from Perisher to Charlotte Pass are closed due to snow. Therefore, it is impossible to go there by car and it is only accessible by oversnow vehicles, special transports that run on continuous tracks (caterpillar tracks).
We visited Charlotte Pass on a day trip, but the ski resort has hotels and lodges by the ski slopes so you can stay overnight and enjoy skiing or snowboarding all day. The iconic building at the front of Charlotte Pass is the Kosciuszko Chalet Hotel built in 1930. Its beautiful appearance is reminiscent of a European ski resort.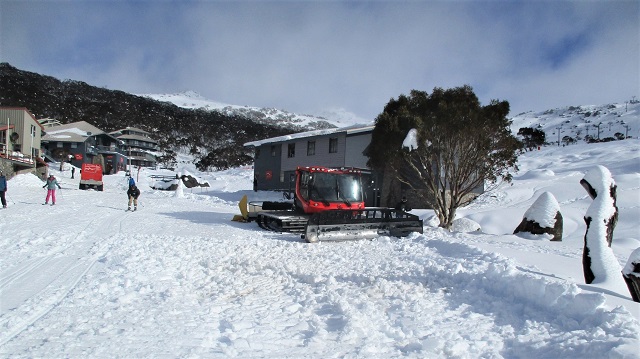 The Charlotte Pass has one chairlift, one T-bar lift and two J-bar lifts. On the day we visited, the chairlift was not in operation and only the J-bar lifts were going. Having never been on a bar lift on a snowboard, I couldn't manage it right and had a hard time. Even so, the snow quality was great and the weather was good on that day. I enjoyed snowboarding with the excellent scenery.
Apart from the lifts, there is also a belt conveyor (also called 'magic carpet')for beginners, so many children were climbing on the conveyor and placticing on the gentle slope without using the lift.
A one-day lift ticket costs $109 per adult and costs $68 per child, and a oversnow return transport costs $105 for adults and $ 85 for children (2020). They also have a day package called 'Day Tripper' that includes a round-trip oversnow pass, lift pass and lunch for $109 per adult and $68 per child. Day Tripper is a popular package deal and requires advance purchase and reservation.
We bought our Day Tripper tickets for $80 per person at a special Groupon sale. Groupon may also offer Charlotte Pass accommodation packages at discounted prices. Check out Groupon if you're interested.
How to get to Charlotte Pass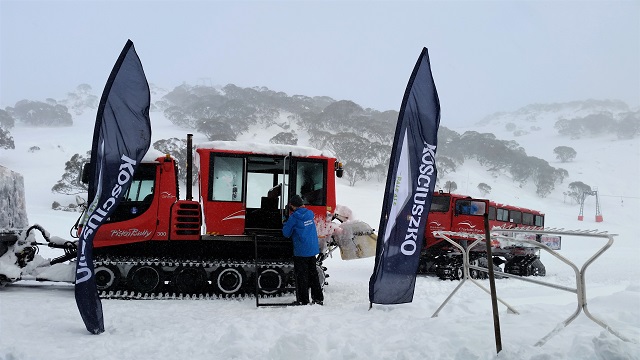 The Charlotte Pass is about 40 minutes away from the Skitube Terminal next to the Perisher parking lot by the special snow-cat transport, Oversnow. Click here for directions to Perisher.
In winter, the road from Perisher to Charlotte Pass is closed, so it is not accessible by car and can only be accessed by oversnow vehicles. The distance is 8km, but it takes about 40 minutes because oversnow vehicles do not move fast.
The place where Skitube Terminal is also known as 'Perisher Valley'. The Charlotte Pass counter is located inside Skitube Terminal and the oversnow transports departure/arrival station is behind this counter.
Charlotte Pass https://charlottepass.com.au/
Some thoughts and comments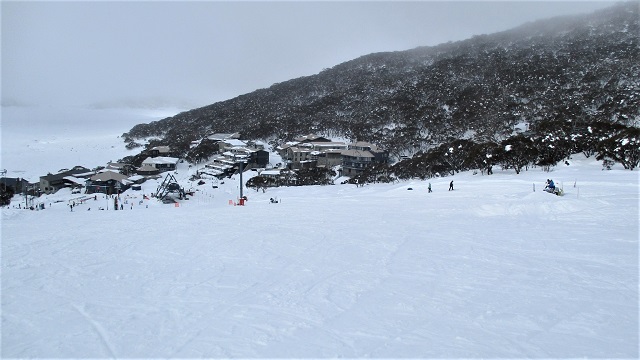 Charlotte Pass is known as a ski resort with no crouds because no cars can access there. Thus, the number of people visiting the resort each day is limited.
The size of the ski resort is small and there is only one chairlift and three bar-lifts, but the location is excellent and the quality of snow is good. We think the ski resort is suitable for beginners, families with kids and those who do not like crowds.
The Day Tripper package deal is of great value because it include a lift ticket, return transport and lunch, and still cheaper than any of the 1 day lift tickets of other ski resorts such as Perisher and Thredbo. The oversnow transport experience is unique and fun. We enjoyed Charlotte Pass very much.
When we went to Charlotte Pass, our oversnow transport departed at 7:15 in the morning. We left Jindabyne, where we were staying, quite early.
We left Jindabyne by car just before 6 am as we didn't know if the road condition would be good because of the heavy snow the day before. Fortunately, the road condition was not bad so we didn't need to use tyre chains. We managed to get to Perisher in about 40 minutes. It took about 15 minutes extra to unload our equipment and park our car in the Perisher parking lot.
The lunch included in the Day Tripper package was good. It was a whole pizza that usually cost $25 at the restaurant. The ski resort has coin lockers that you can open and close as many times as you like for $15 a day.
Our return oversnow transport to Perisher departed from Charlotte Pass around 3 pm. Your oversnow transports will be prebooked when you purchase your ticket. The oversnow times will be allocated when you purchase your ticket and you can tell your preferance to thier booking operator.
If you want to hire ski and snowboard equipment, we recommend doing it in Jindabyne. You can hire at Charlotte Pass, but it's quite expensive. See this article about hiring ski/snowboard gear in Jindabyne.
Related article: Perisher, Australia's largest ski resort – Guide & Review