There are 3 ski resorts around Jindabyne within Kosciuszko National Park, which are Perisher, Charlotte Pass and Thredbo. Perisher is one of the most popular ski resort in Australia because of its size, firt-class facilities and variety of runs and snow parks that attract new comers and repeaters all the time.
Perisher is the largest ski resort in the Southern Hemisphere and is made up of 4 mountains with 47 lifts. There are plenty of courses suitable for all levels of skiers and snowboarders, and there are several snow parks with various features. Perisher is huge, so it is impossible to conquer all the runs in one day.
The information here is based on our skiing experience at Perisher in 2020.
Perisher Ski Slopes & Facilities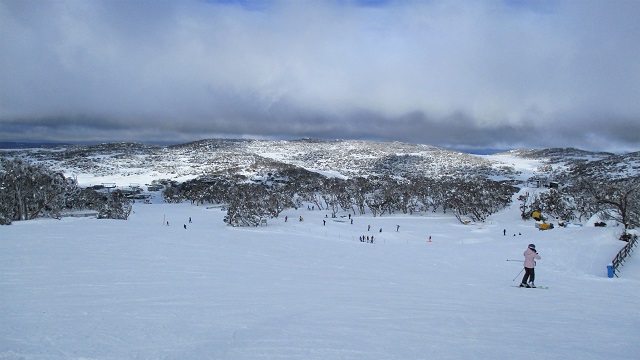 Mt Perisher is the highet mountain (2054m) in Perisher on the west side of the main ski slope in the center of the ski resort. There are 2 chair lifts go straight to the mountain top. On of them allows you to reach the highest altitude.
Mt Blue Cow is located on the northeast side where you can enjoy the magnificent scenery with fewer people while skiing or snowboarding.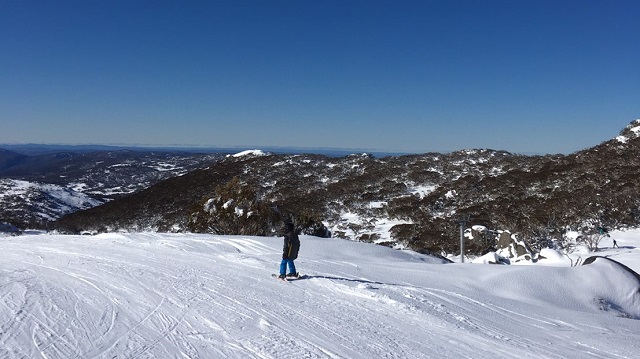 Smiggin Holes is a part of Perisher with a separate car park that looks like another small ski field on its own. There are a few runs that connect Smiggin Holes and the main part of Perisher where you can travel to and from other areas freely on skis.
There are many steep slopes and uneven runs in Peisher, but you can also choose a gentle and easy runs to slide. The green lines on the trail map are gentle slope runs for beginners. We recommend that you study the map and plan your route in advance.
For those experienced who want to enjoy freestyle skiing and snowboarding, Perisher has 6 great snow parks equipped with various features around the fields.There are several restaurants scattered around the resort, which get crowded during lunch time. In 2020, due to the COVID restrictions to limit the number of people in the facilities, we had to wait in a queue to enter the restaurant area on the upper floor of Perisher Centre.
Pelisher Centre is the main building located on Front Valley adjacent to the large car park and Skitube Terminal. Perisher Centre has a room for families with kids. Ask the Perisher staff if you are with little kids and want to access to the room.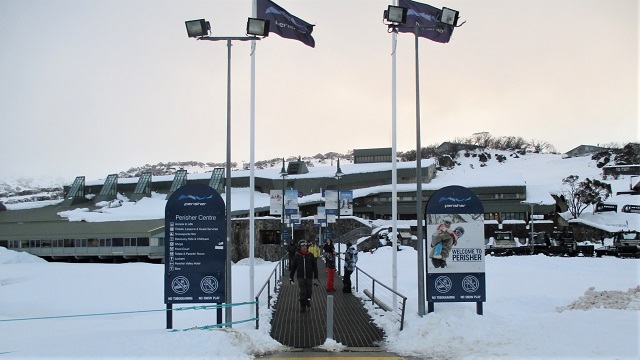 Smiggin Hols is the area on the earsten part of the resort with Smiggins Hotel and Chalet Apartments. Smiggin Holes is cosier and more family-friendly with lots of gentler and wider slopes. The restaurant of Smiggins Hotel right in front of the main slope has many tables by the windows overlooking the ski field, making it a great place for families to hang around.
Smiggin Holes has only one chair lift, and there are five T-bar and J-bar lifts. The area has about 14 runs, with a couples of runs going to and coming from the Perisher Front Valley.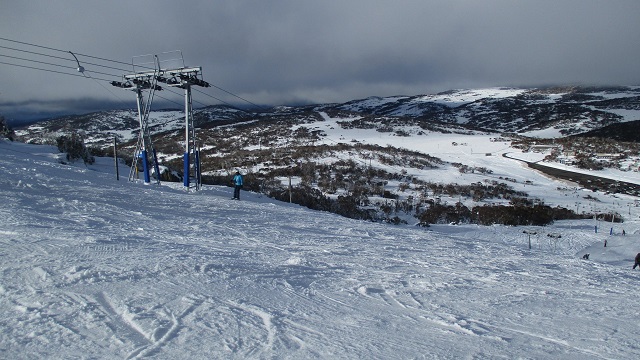 When we were there, there were fewer people in Smiggin Holes and it was easy and fun to ski with great snow conditions.
Smiggins Hotel has exclusive restaurant and rest areas for the guests. It would be more enjoyable to stay there for comfort and convenience.
There are a few slow-moving conveyor lifts (called magic 'carpets') in fornt of Perisher Centre and Smmigins Hotel on the gentle slopes for beginners.
On the east side of the Front Valley parking lot, there is a fun place for kids called 'Tube Town' where you can enjoy sledging on a big rubber tube. However, this facility was closed for 2020 due to the COVID restrictions.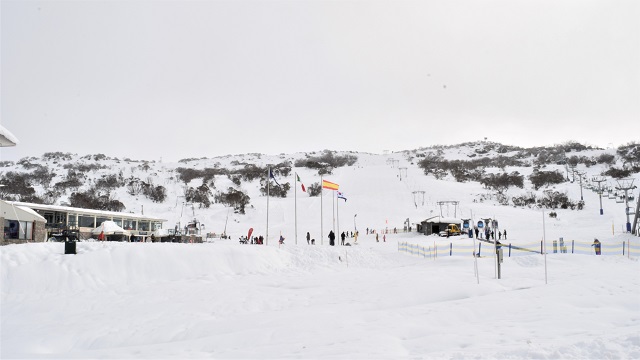 The lift tickets cost $175 a day for adult and $95 for child during the peak season in July. In addition to the lift ticket cost, you need to buy a $5 swipe card to get access to the lifts.
Because of the COVID restriction, we had to buy the lift tickets online in advance to get them delivered by post beforehand. A mailing fee of $5 was charged separately.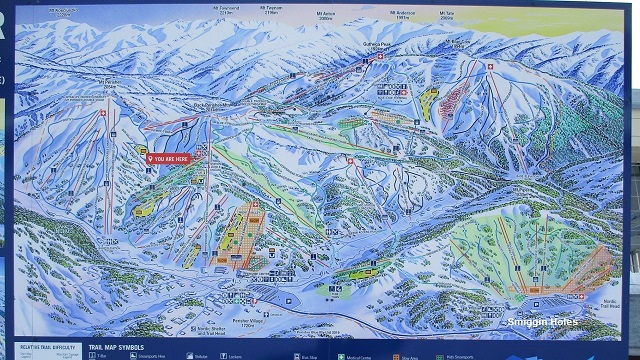 How to get to Perisher
Driving south from Sydney for about 5 hours will get you to Jindabyne, the centre of Snowy Mountains. Jindabyne is a beautiful lakeside town with lots of accommodations, restaurants and shops. It is the most popular winter-holiday destination for skiers and snowboarders in Australia because of its proximity to Perisher and Thredobo.
We stayed in Jindabyne for a few days and enjoyed skiing and snowboarding. Perisher is located on the mountain in Kosciuszko National Park, which is about 30 minutes drive from Jindabyne and 34 km away.
Jindabyne is about 5 and a half hours drive from Sydney via Canberra, the capital of Australia, and is about 460 km away. The shortest route from Sydney to Canberra takes just over 3 hours and is about 290km. From Canberra to Jindabyne is just over 2 hours and about 170km.
As you get closer to Perisher, you'll see a snowy landscape that you wouldn't expect to see in Australia. It is like a completely different world. It is easy to get there as you only follow Kosciuszko Road, but you need to be careful when driving on snowy roads during heavy snowfall.
When we went, it snowed heavily on the day before and the snow was still left on the road surfaces. Tyre chains were unneccessary, but we were cautious about driving and it took about 40 minutes from Jindabyne to Perisher.
Two-wheel drive vehicles driving in the national park during winter are required to carry tire chains. You can hire tire chains in Jindabyne. It's cheaper to hire than buying if you stay there for just a few days.
We went with a two-wheel drive 8-seater wagon. It was a rear-wheel drive vehicle with a heavy body that is not really great on snowy roads. Fortunately, We didn't have to drive on icy roads with chains on the tyres. We made 3 trips to Perisher without any problems during our stay.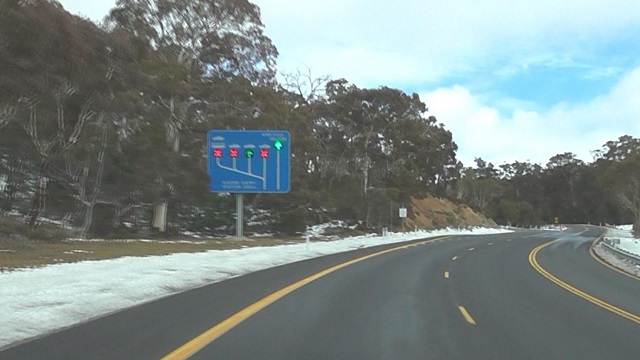 Admission to the national park was $29 per car per day (2020 ski season). Every time you enter, you will pay at the toll booth on the way to Perisher.
In Perisher, there are two huge parking lots. One is in front of the Perisher Valley front slopes, which is next to Pericher Centre and Ski Tube Terminal. The other is at Smiggin Holes behind Smiggins Hotel. Parking is free.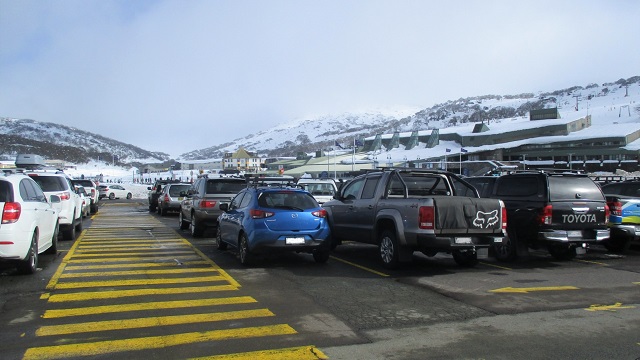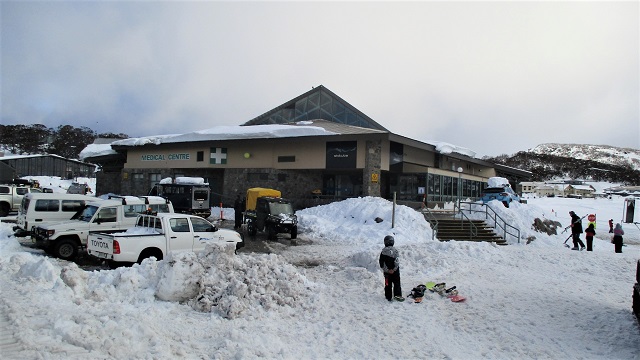 Also, there is a railway running through a tunnel in the mountains called SkiTube from Bullocks Flat to the Skitube Terminal next to Perisher's parking lot. Bullocks Flat is located at a low altitude, about 20 minutes drive and about 20 km away from Jindabyne .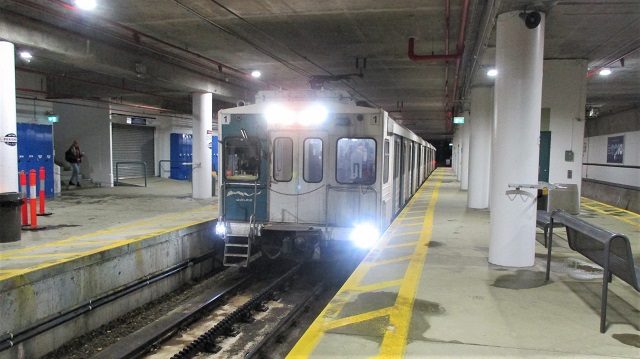 It is more expensive by travelling on Skitube than driving a car to Perisher. It would be a good option if you do not want to drive in snow.
This youtube video takes you on a short road tip to Perisher.
Perisher https://www.perisher.com.au/
Hiring Ski & Snowboarding Equipment
As this was our first ski trip in Australia and we didn't have any ski equipment, we hired our equipment in Jindabyne. Hiring is recommended if you do not go sking/snowboarding every winter or if you have growing kids whose chothes size changes evey year.
It's quite expensive to hire ski/snowboard gear at the ski resort, but you can hire a set of equipment much more cheaply at the many rental shops in Jindabyne.
We hire our equipment from Monster Depot Ski Hire as we found the special deal from Groupon. The deal was $55 for $100 to spend on ski and snowboard equipment hire. We did a lot of research on hiring ski/snowboard equipment and found using this coupon was the most inexpensive way to hire equipment in our case. We were very satisfied with their service. The staff at Monster Depot are very friendly and helpful. Their hire equipment were great quality and from top brands such as Salomon and Burton.
Details of the Monster Depot Ski Hire deal at Groupon
If you like to check out what other ski deals are available at Groupon, enter "snowy mountains" or "snow" in the search box on the site. They have a lot of discounted ski resort package deals as well.
If you are after inexpensive ski jacket, pants, goggles and gloves to buy, check eBay and Decathlon. Decathlon is the world's largest sports retailer and has been present in Australia since 2016. Their snow gear are very cheap.
We also hired car tyre chains in Jindabyne from BP SKIHIRE, the shop attached to the BP service station. The staff was very friendly and gave me an demonstration for fitting tyre chaines on my car. The hire price was less than $ 50 in 3 days. It is cheaper than buying a new set of chains.
You can pick your chains up the night before your rental period starts and you can return by 10 o'clock the next morning, with no extra charge.
Related article: Charlotte Pass – Australia's Highest Ski Resort in Snowy Mountains